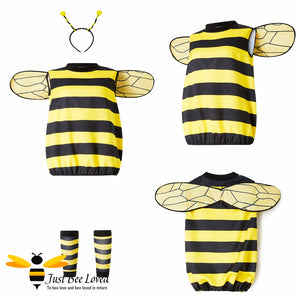 This 3-piece fancy dress costume features a black and yellow striped sleeveless tunic dress with attached wings, antennae headpiece and matching legs sleeves.
Pull-over elasticated hem dress.  Sown in wings made from thick felt with inner wiring which can be bent into preferred position.  Sleeves suitable to wear either on legs or arms.
Available in sizes age 3 to 14 years.
Material: Polyester / Thick felt / Wire
1 x Dress with wings
1 x Antennae
1 x Legs/Arm sleeves
Care:  Sponge clean only
Polite tip: as children sizes vary, it is better to measure your child to ensure a true to size fit.  Age sizes also show size in height for more accurate sizing.