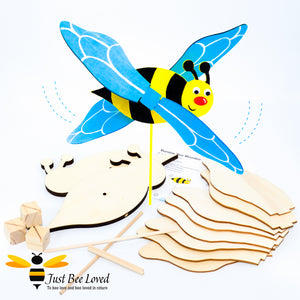 Children will enjoy building their own bumblebee windmills for the garden and then watching the wind do its magic rotating the bees' wings. 
This kit includes 2 windmill sets to build.  Each windmill has pre-cut pieces to be assembled.  Once assembled, colour the bumblebee in traditional black and yellow colours, or be creative and choose own colours. No glue required.
Also great for party activities and goodies bags.
Step by step instructions
Size: 17.5 cm long
Material: Wood
Decorate with acrylic paints / deco pens (not included)
Note: Not suitable for children aged under 3 years old - contains choking hazard pieces