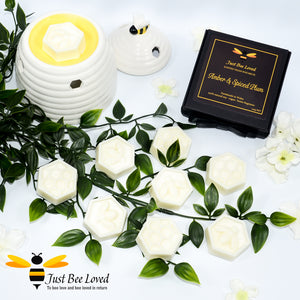 A sophisticated oriental fragrance blending spiced plum, florals of jasmine, rose and orange blossom, with powdery amber and musky base notes. 

Our handmade bee themed vegan wax melts are made with premium ingredients, free from all forms of animal cruelty with no added colourant. 
Bee-utifully presented, each melt comes individually wrapped to retain freshness.  
8 x 15g wax melts (120g Net)
8 hours burn time each melt (64hrs+)
100% Natural Soy Wax
Fragrance oil (parabens & phthalates free)
Vegan & Eco-friendly
Cruelty Free
Handmade in Wales
Sample pillow box:
Our sample pillow box contains 2 wax melts and is a great way to sample our range and find your favourite scents.