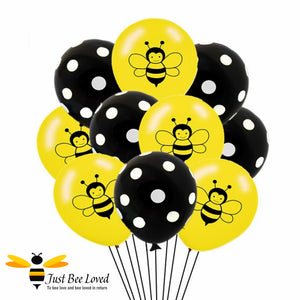 Make a bee balloon bouquet with this cute set of bee themed latex balloons.  Features 5 yellow balloons with bees and 5 black balloons with white polka dots.  Each balloon can be inflated to 12 inches.  Can be filled with air or helium.  
Supplied without balloon holders.  
Balloon holders can be purchased here.
Disposing latex balloons - although biodegradable, did you know it takes approximately 2-years for a balloon to completely break down?  Disposed incorrectly, they can cause a lot of environmental and wildlife harm.  
You can safely dispose of your balloons in a compost bin.  Cut balloons into tiny shreds/pieces to help accelerate the decomposition.