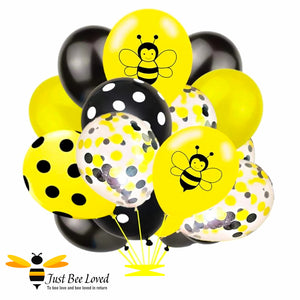 Bring a real buzz to your party event with this 12 piece bee themed latex balloons set.  
Set contains: 
2 x Bumble Bee
2 x Black & white polka dot
2 x Yellow & black polka dot
2 x Black
2 x Yellow
2 x Yellow & Black confetti
Includes curling ribbon to tie balloons into a bouquet.  Each balloon can be inflated to 12 inches and filled with either air or helium.   
Disposing latex balloons - "Please don't let them go".  Disposed incorrectly, latex balloons can cause a lot of environmental and wildlife harm.  While organic latex balloons can be safely composted, many latex balloons are mixed with synthetic materials.  Unless specifically stated to be organic, it is better to err on the side of caution and dispose of in your household waste bin.  
Warning: Releasing balloons and lanterns into the air is banned through-out Wales.